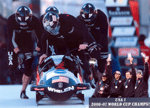 "The stress and G-force compression that we go through on a daily basis have so many affects on the body that a lot of Sports Medicine Clinics have problems diagnosing or correcting them. From my first visit to MSHC, I noticed the difference in their knowledge and quality of treatment. I am excited to integrate them into my training on my way to my 3rd Olympic Games."
Steve Mesler
`10 Olympic Gold Medalist, '09 World Bobsled Champion
'06-'07 World Cup Bobsled Champion, 3-time Olympian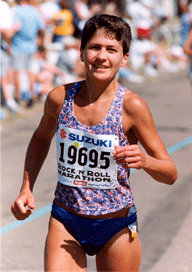 "While nursing a chronic hamstring injury, I came across an article about Active Release. Since this treatment made sense to me (purely mechanical, no medication, immediate improvement, minimal restrictions to exercise), I chose to give it a try. After only a few treatments in combination with strengthening exercises, my hamstring was cured. Now visits to MSHC are included in my training regime. If you have an injury, ART provides you with immediate relief without taking medication or downtime in your active life and helps aid in a speedy recovery."
Barabara Stoll, Ph.D.
Baylor College of Medicine, Elite Masters Runner

"It was not long ago after knee surgery that I wondered, if I would ever regain my previous strength and agility. Since coming to MSHC, my ATP World Ranking has risen over 500 places. I am now back as one of the Worlds' Top Ranked Men's Tennis Players. I could not have done it without A.R.T., Graston & functional rehab."
Michael Russell
Top 10 US Men's Tennis Pro, ATP World Ranked 66th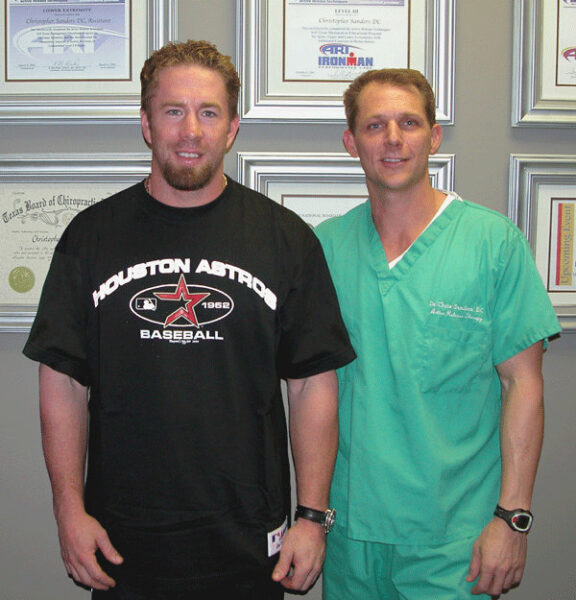 "After coming to see Dr. Sanders at MultiSport Health Center, I saw vast improvement in my shoulder mobility, strength and performance."

Jeff Bagwell
Future Baseball Hall of Famer
Former Houston Astro
MLB Most Valuable Player
"All I can say is that MSHC gave my 1st marathon goal new life after my IT injury. I had let myself run on an untreated injury so long when I finally made the decision to come in & get 'real help', not internet therapy, it took 2 months of solid treatment to get me healthy again. I got stronger and they taught me how to keep the injury from coming back. I did not listen, which was my biggest mistake because I got injured again. Again they fixed me. This time I finally listened and the rest is history. Thank you MSHC. I could not have done it without you! Now to work my way up to a half Ironman. At least, I have the peace of mind knowing if I get injured, I have MSHC to get me back on track."
Robert Real Katy, Texas

"I am regularly amazed by Dr. Sanders' ability to diagnose and fix, what to others would be untreatable injuries. I have gone to him for many of these, most recently with neck and shoulder pain, which I was told needed to be fixed by surgery. Instead of dismissing my pain or giving up, when the solution was not readily apparent, Dr. Sanders worked with me. Using ART, Graston, & Physical Therapy, he not only stopped the pain, but strengthened the area so that I could continue competing pain free. Due to the extent of his involvement with his patients and his intense concern to quickly return an athlete to full performance, it became obvious that work wasn't simply a job; it was his passion."
Lisa Tilton-McCarthy
Professor of Law at the University of Houston
Elite Runner & Ironman Triathlete
"Being an RN with a labor intensive job, I have always tried to stay active and healthy. Maintaining a consistent exercise plan is part of my lifestyle, which recently included working out with a trainer for the last 5 months. At 37, I felt in the best shape of my life. However, in August I suffered a severe lower lumbar strain from picking up a 10 lb. chair at work. Who would have thought? After seeking medical attention, I was given the rest and medication route. As an athlete, I knew I needed more. A co-worker immediately notified me of the benefits of A.R.T. and what MSHC could provide. I began treatment the next day. I have read other testimonials and couldn't agree more. Their expertise and Active Release got me back to work, running, swimming and training. Thanks so much to everyone at MSHC."
Rebecca M. Bourne, RN, CHRN
Center for Hyperbaric Medicine
Memorial-Hermann Hospital Medical Center

"As a professional trainer and fitness model, my job requires me to stay in photo condition 365 days a year. Unfortunately, too much work and not enough rest can take its toll on the body & 'down time' is not an option. After months of unsuccessfully trying to rehab an injured rotator cuff, I learned about MSHC and the wonders they were able to perform through ART & functional rehab.They not only fixed my rotator cuff, but continue to keep my muscle, tendons, & ligaments functioning properly. Whether you are active in the yard or at the gym, I highly recommend MSHC for anyone who wants to stay healthy & injury free. You could not spend your moeny more wisely!"
Roger Applewhite
Professional Trainer & Fitness Model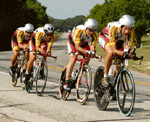 "After experiencing moderate hip pain that was impacting my training, I received A.R.T. on my hip and combined with a stengthening & stretching routine. It really helps that they understand how I push my body on the bike. My hip has been pain free ever since! Now with all of my grueling training and racing, MSHC is the first place I go to get back on the road as fast as I can."
Michael Pincus, age 16
Metro-Volkswagon Elite Cycling Team
8-time Texas State Champion (Crit, Road, ITT & TTT)

"In just 4 visits, Dr. Sanders prescribed the correct course of action to help me with my chronic back problems. I've been able to train pain free since completing my treatment. I've had multiple top 10 road race finishes this year, including a 'Masters 35+ 4/5 GC' win at Fayetteville, which is one of the nations largest Stage Races."
Alex Pincus, Pearland Racing Team
2-time Texas State Individual Time Trial Champion
2-time Texas State Team Time Trial Champion


"Dear Dr. Chris & Staff,
A big THANK YOU to all of you for all your efforts towards my 'magical marathon'! I was thrilled to finally be in the event (not just 'at' it like the last 4 years) and though I smiled for most of the 26.2 miles, tears of overwhelming emotion were never far away. Thank you for working so hard to help me through all the challenges. It is hard to find an adequate way to express the gratitutde I feel. Thank you again for 'fixing' me when I hurt, for teaching me so much and for your gracious hospitality whenever I visit the clinic."
Jenny Demarest
Women's Age Group Marathon Runner

"I have had back pain throughout my musical career and have tried everything from physical therapy to yoga and various exercises and treatments. MSHC and Active Release Techniques have given me the knowledge and tools that helped me become totally pain free for the first time! Thanks."
Marc Garvin
Professional Guitarist
Radio Personality, KUHF 88.7 FM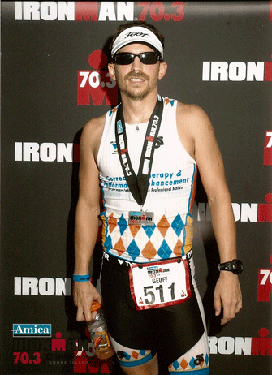 "I want to thank the staff at MutliSport Health Clinic for their expert knowledge and encouragement throughout my treatment. As every triathlete can attest, long consecutive days of training can take a toll on the body, but they made certain that I was at the starting line in the best shape of my life. I reached my goal of going sub 5 hrs in my first Half-Ironman. I finished in 4:54, good enough for 5th place and a slot to the Ironman 70.3 World Championships in Clearwater, Florida! Thanks everyone! Keep up the great work."
Geoff Price, Houston 70.3 Ironman Triathlete
"We wanted to thank everyone at MSHC for all you have done treating our son and daughter over the last year. Both have continued to have success in athletics (son-baseball/basketball & daughter-volleyball) due to your help in rehabilitating and eliminating pain in their injured areas which ranged from hamstring pulls to elbow and shoulder issues. We are convinced that your ART treatments have enabled them to overcome injuries while participating in their activities at a much faster pace than traditional rest and therapy programs."
Jim & Melissa Carey
Sugar Land, Texas

"Athletes of all types view injuries as obstacles that they need to work around in order to 'get back in the game'. What I like most about MSHC is their understanding that serious athletes will work hard to rehabilitate, but quitting the sport is not an option. Their knowledge and creativity in treating injuries has made all the difference for me."
Nancy B. Rapoport
Professor of Law, University of Nevada Las Vegas
Former Professor & Dean of Law, University of Houston


"I don't get injured very often on my '2nd job' as a competitive age-group triathlete and runner. After nearly 20 years of competing in running races from 5K to marathons and in triathlons ranging from sprints to Ironman-distance events, the occasional aches and pains do crop up. Luckily Dr. Sanders is here for those rare moments to diagnose and treat me on short notice to get me going again, sometimes overnight, sometimes after several visits. Hardly ever do I have to give up the activity that caused the injury in the first place. The improvements I experienced after visiting MSHC range from noticeable to 'witchcraft' (How does he do this?), and Dr. Sanders' knowledge of sports-related injuries, which he is happy to share, makes him a walking encyclopedia on the subject. Alone that is worth the price of admission (very reasonable by the way). Armed with that hard found knowledge, I have never had an injury that Dr. Sanders treated, come back for a 2nd round. Best of all, MSHC makes a great recommendation to athletic friends, who usually shy away from the medical establishment, but rave about the experience with Dr. Sanders, and thank me profusely. Talk about a win-win-win!"
Michael Waldau, Houston Triathlete
2-time Ironman World Championship Competitor

"When you are doing a Broadway show eight times a week, it's not IF you get hurt, but when you get hurt. MultiSport Health Center provided a place for me to receive a quick resolution to my problem. They also gave me the tools that I needed to keep these problems far far away."
Kevin Crewell
Monty Python's SPAMALOT